Shopping cart
Device technology
Device options
Software
External sensors
Test trailer
Pumps & Compressors
Gas flares
Gas venting pipes
Disinfection
Connection accessories
Probes
Test head
Adapter test head
Pressure gauge
GPR testing tools
Regulator interrupter
Adapter empty tubes
Adapter
Pressure reducer
Connecting hose
Test plug
Meter connection
Connection sets
Test accessories
Charging technology
Transport & Storage
Accessories
Operating instructions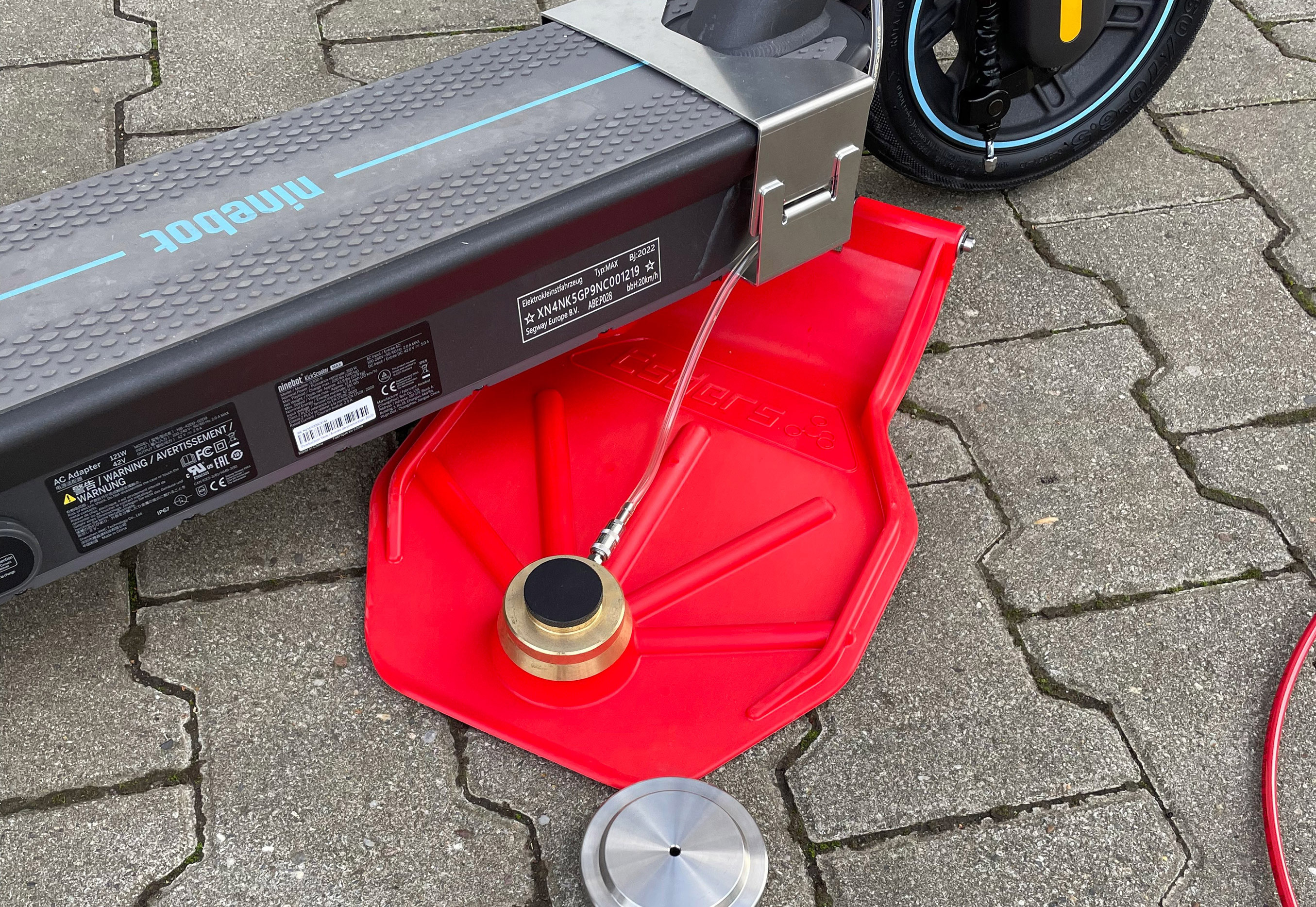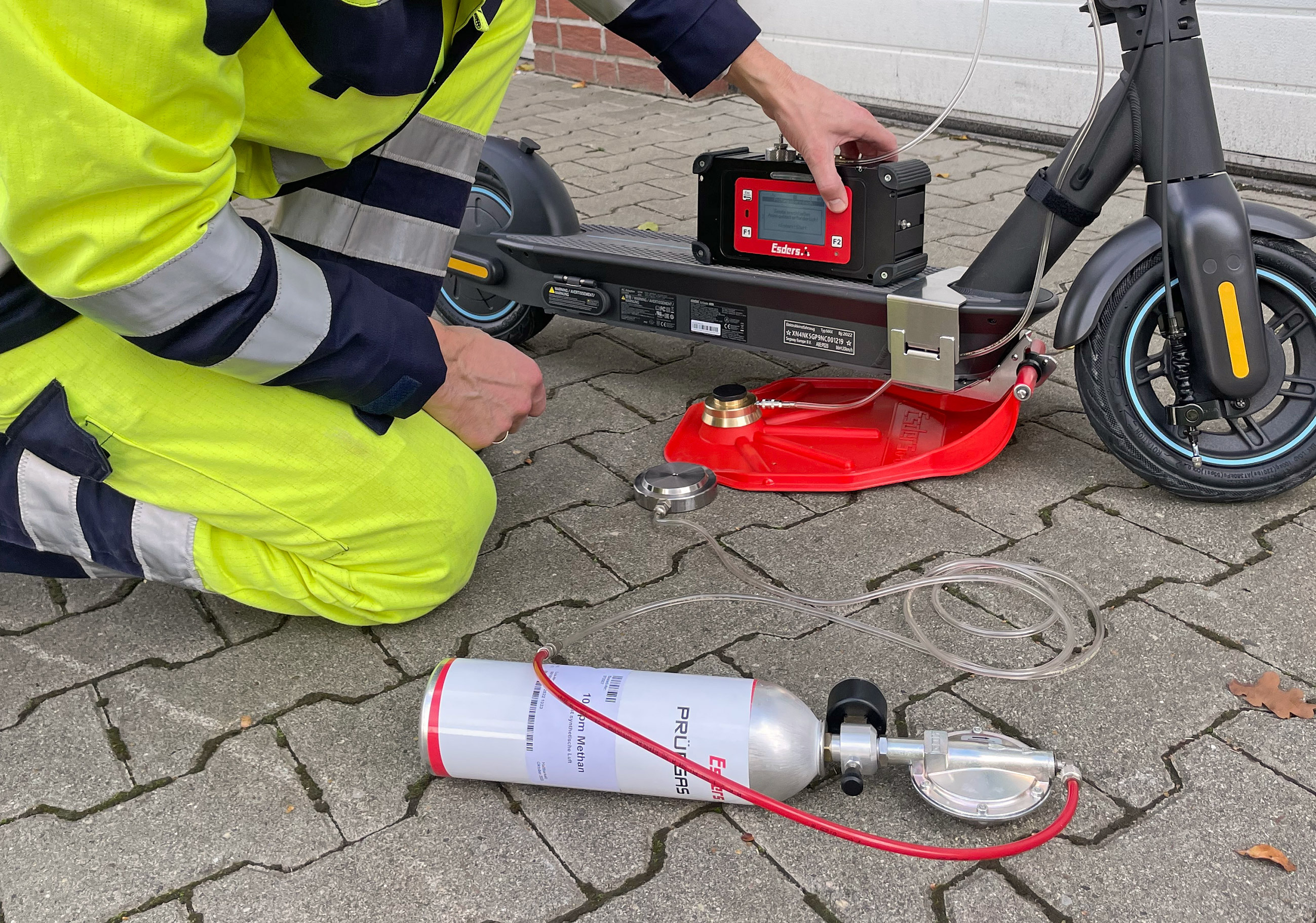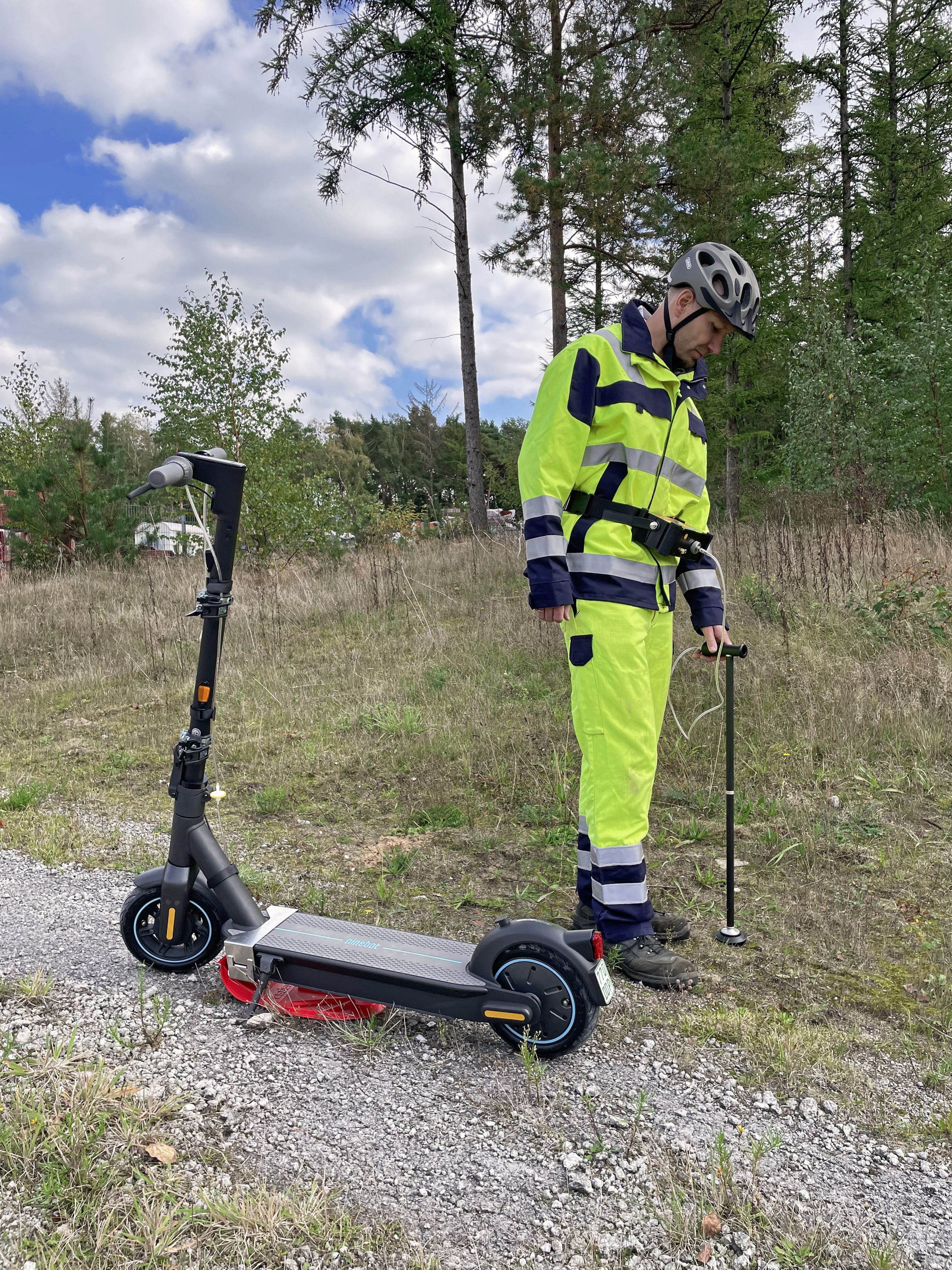 E-Scooter Laser HUNTER - 252024
E-Scooter Ninebot MAX G30D II with mounted carpet probe for professional gas leak detection Filter and hose for connection to measuring device Laser HUNTER are included. The use of the scooter in German road traffic is subject to compulsory insurance! The corresponding registration of the scooter is not part of the scope of delivery, but is the responsibility of the customer (and the rules and regulations of the country you reside in). The Laser HUNTER is not part of the scope of delivery either and must be ordered separately.
Description
By combining a modified E-Scooter and our highly sensitive gas detection and gas measuring device 
Laser HUNTER
, we offer an efficient solution for optimizing the inspection of buried gas pipelines.
Whereas with the classic, probe-based inspection with handheld gas detectors, a pipeline route of up to 10 km can be inspected in a day, with our E-Scooter it is theoretically possible to inspect a maximum of twice this number of kilometres in one day with the same personnel. This is made possible by an easy-to-mount carpet probe under the E-Scooter in combination with shorter reaction time of the Laser HUNTER, which makes it possible to inspect the pipeline network at twice the walking speed. At the same time, the device is user-friendly, as the users have to walk much less. 
You can also find more detailed information in our 
blog
.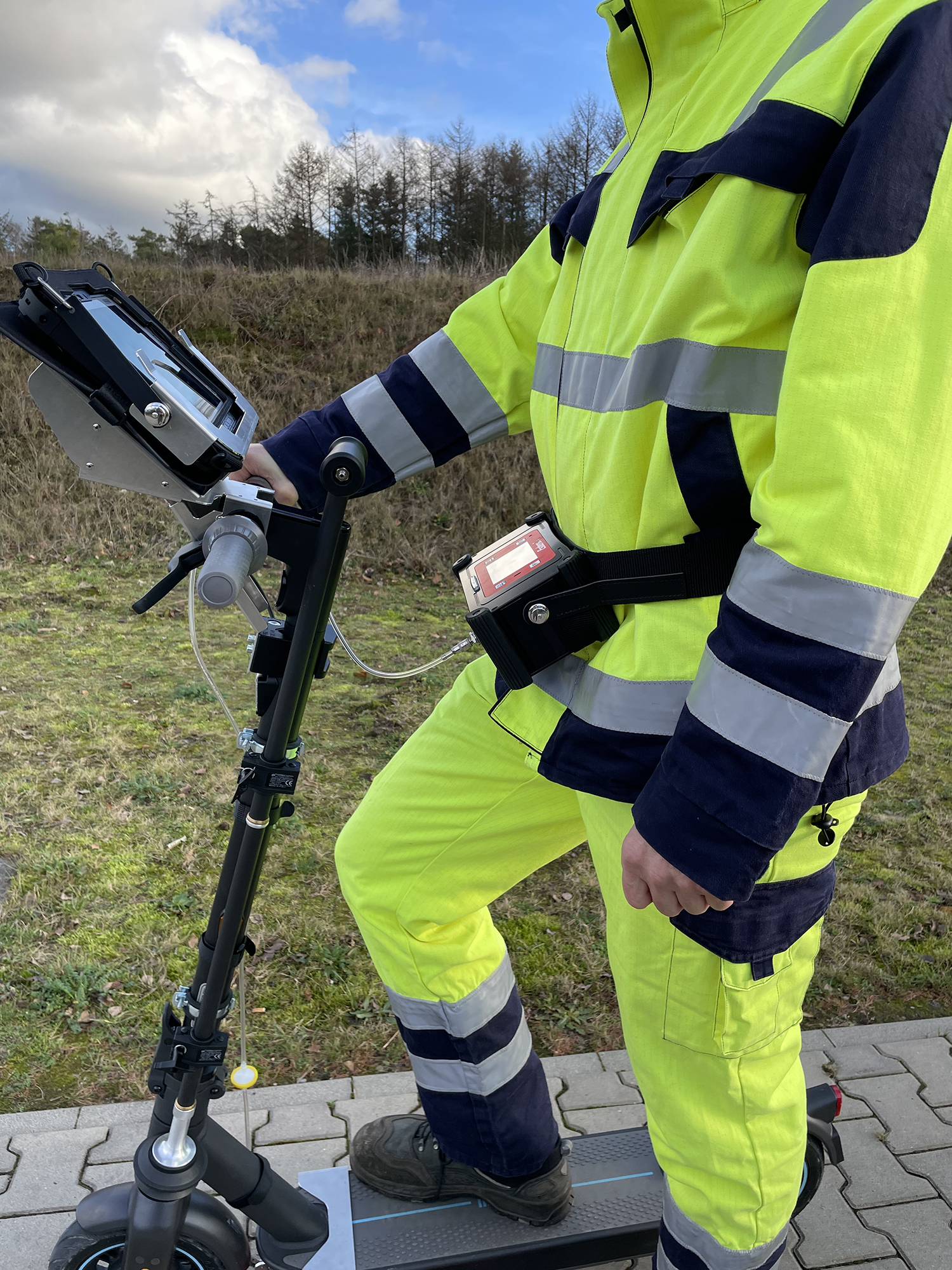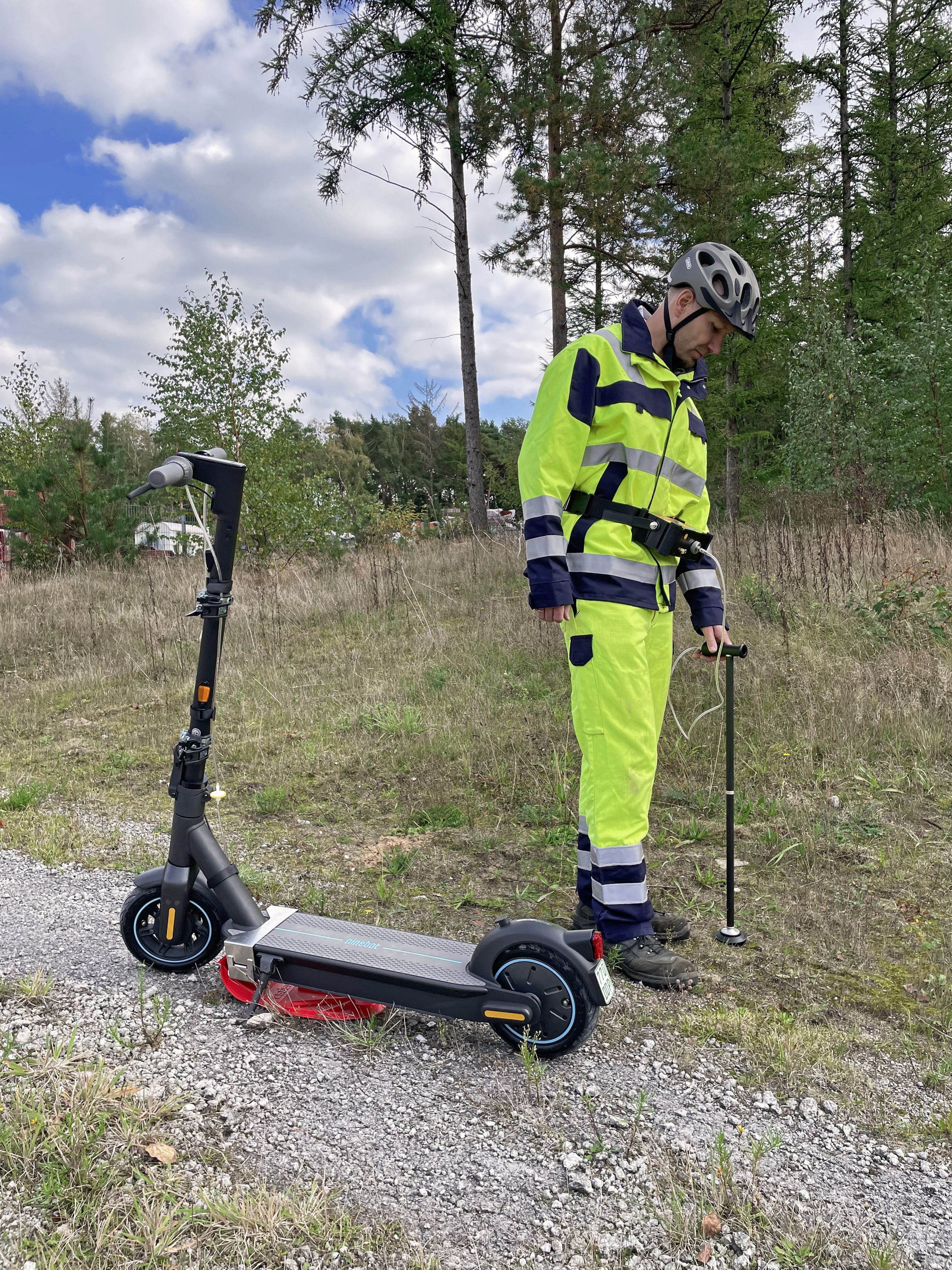 Features
More efficient pipeline network inspection due to higher speed



Less unproductive walking distance for users (e.g. return path from long pipeline sections)
Inspection of non-trafficable areas with optional accompanying bell probe
Quick and easy display test on mounted carpet probe 
Connection to Esders Pi NOTE (GIS software) possible for complete documentation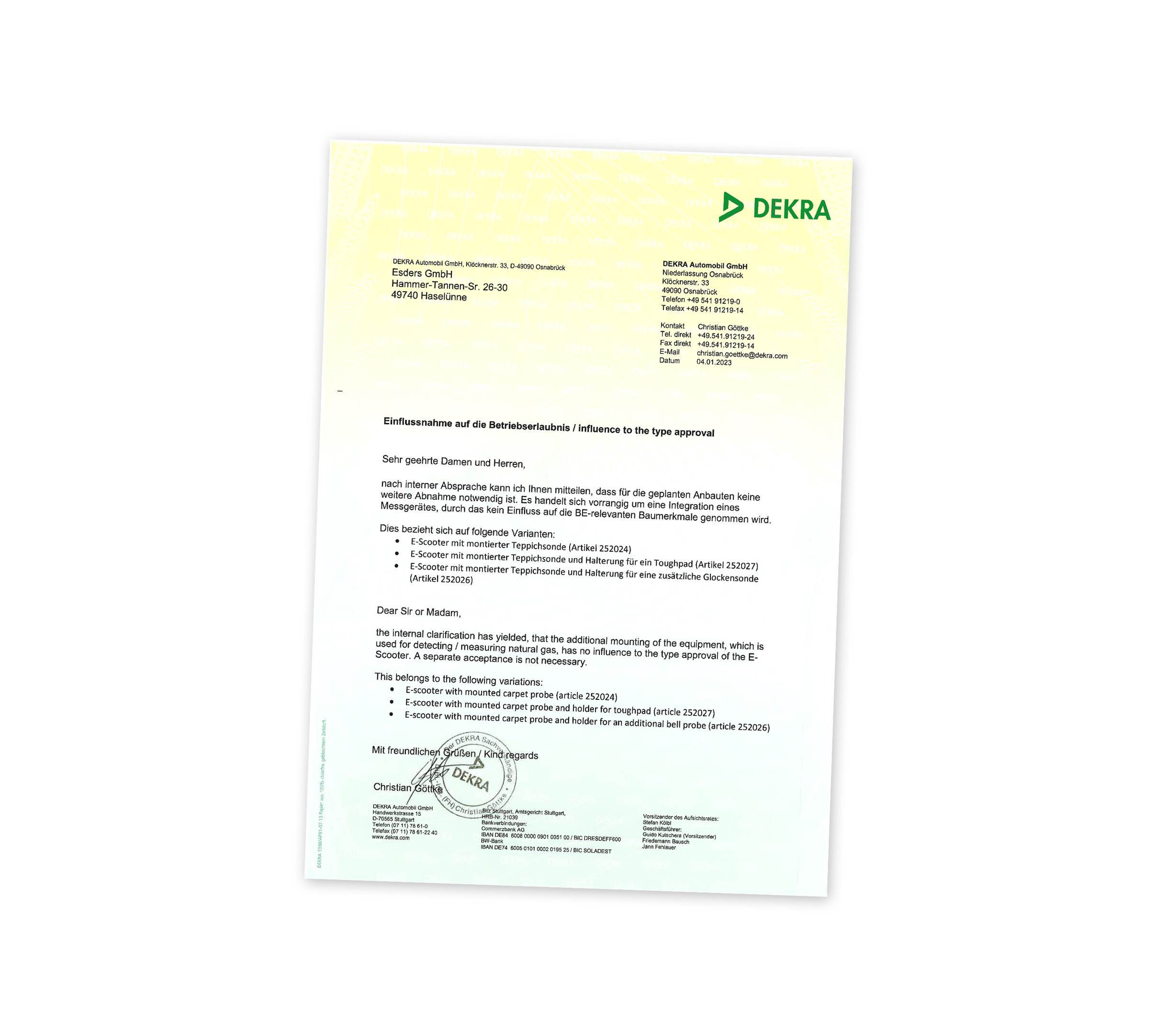 DEKRA
DEKRA assures you that the operating licence of the E-Scooter does not expire due to the integration of our components.
Technical data
| | |
| --- | --- |
| Max. driver weight | 100 kg |
| Product dimensions– Unfolded  | 1170 × 470 × 1210 mm |
| Product dimensions– Folded  | 1167 × 472 × 534 mm |
| Weight  | 19,9 kg |
| Speed  | Up to 20 km/h |
| Range  | Up to 65 km |
| Tilt angle | Up to 20 % |
| Battery capacity | 551 Wh (15300 mAh) |
| Charging time | Approx. 6 hours (3A integrated quick charger) |
| Output power | 350 W |
| Maximum power | 700 W |
| Display | Full dashboard display with colour display and information about speed, remaining battery power, modes, maintenance required, Bluetooth connection |
| Drive modes | 3 driving modes (Eco, Drive, Sport); 1 walking mode |
Tutorial
How do I perform a display test on the Laser HUNTER before using the E-Scooter if the carpet probe is already mounted on the E-Scooter?
Markus Seelmeyer shows in the video how to do this.
Downloads
Brochure Modular System
E-Scooter Certification