Our online portal for the documentation of measurement data as well as device and order management offers users the opportunity to digitize their processes and thereby increase their productivity.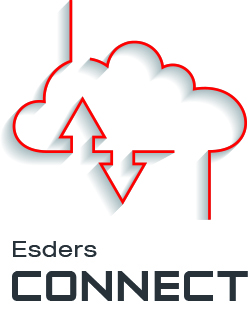 Discover Esders Connect, your solution for easy data management and seamless integration with world-class customer support. Send us your contact details to receive a personalised demonstration and learn how Esders Connect can transform your business!
You can manage your measurement data in the Esders Connect online portal in a paperless and GDPR-compliant manner. Here, the data of your measuring devices is clearly displayed and can be viewed by every registered employee of your company. Use the Esders Connect online portal in addition to managing your devices, your orders and configuring settings in devices and reports. You can easily transfer changes to device settings to your measuring devices using the Esders Connect app.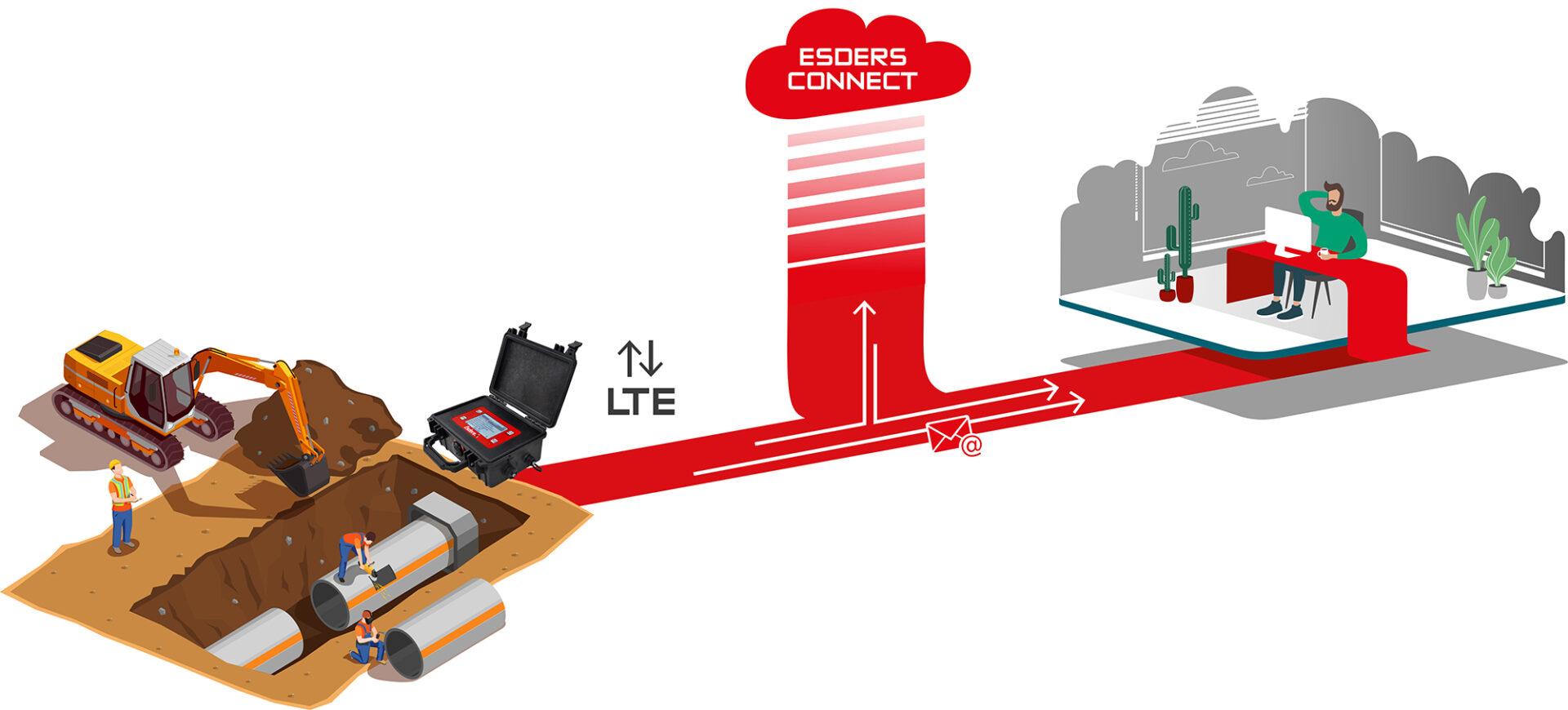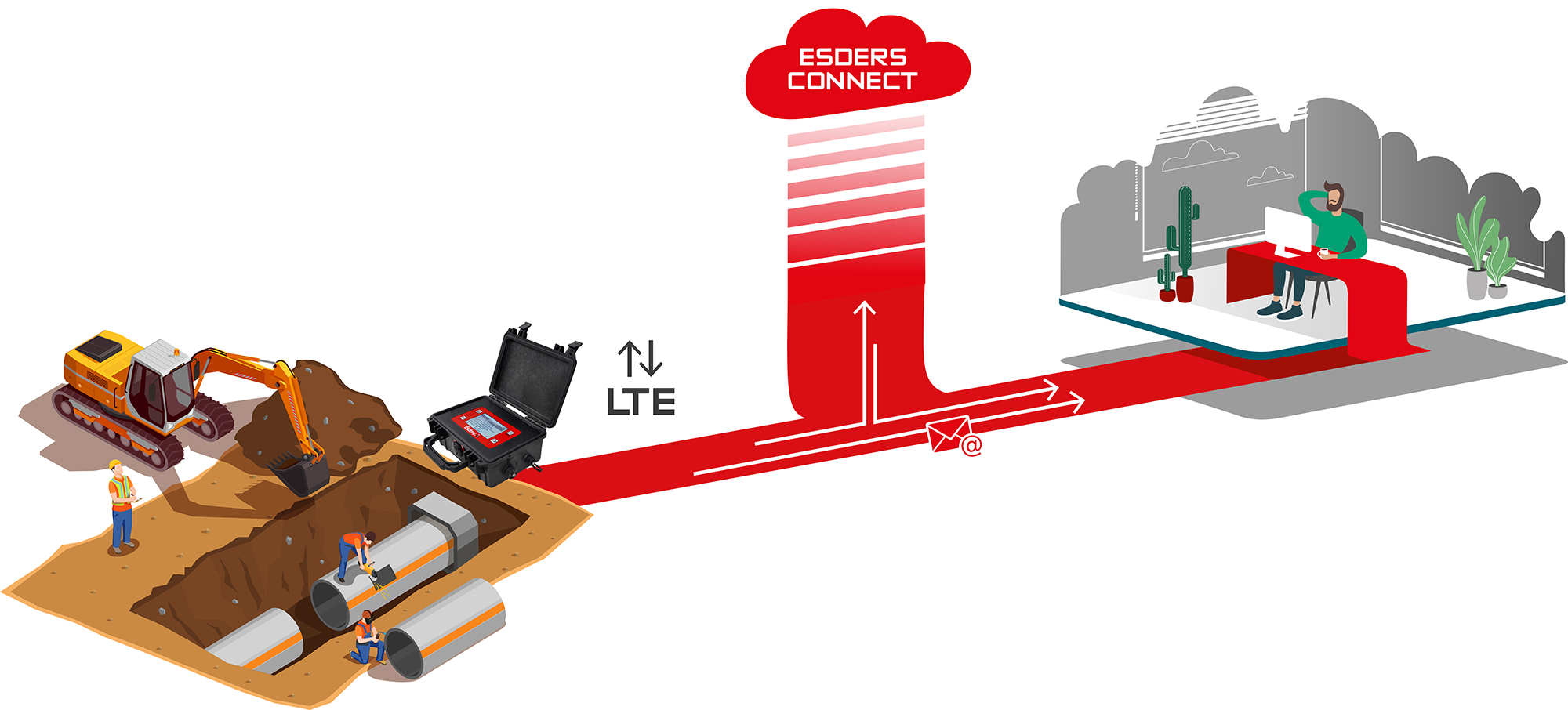 The Esders Connect online portal and the Esders Connect app give you full flexibility in managing your measurement data, devices and orders.
Direct creation of test reports on site
Send measurement data via LTE or Bluetooth and app
Paperless documentation and centralised digital management of your measurement data
No software installation necessary
Direct access by any registered employee
Measurement data management and device management in one online portal
Certificates, operating instructions and other product-specific documents are available for download
Service scheduling at the click of a mouse
Data protection-compliant
request offer easily

The Esders Connect online portal
The Esders Connect online portal is our central and digital place to manage your measurement data, your devices and your orders. With your personal access data, you or your colleagues can log in from anywhere at any time and benefit from the advantages of paperless documentation and management.
Measurements and reports
Your collected measurements and reports are managed and clearly displayed in the Esders Connect online portal. You have the option to filter according to different criteria and to display only selected measurements. If required, you can either view a complete PDF report of your measurement, download lists of measurements or simply download measurement data in table format. If you want to correct additional data on a report, you can conveniently change this in the respective measurement and immediately generate a corrected PDF report. The creation of device groups allows you to configure different settings for several devices at the same time, e.g. several master data records, which are automatically printed on the report header of the PDF file. You can therefore create a group with your own "branch office" master data for each branch. In addition, you can use device groups to configure special device settings, e.g. the configuration of the additional data (MDE), which is queried in a check (by default "order number", "postcode, town", etc.).
My devices
By directly linking the measurement data management with the device management, you can easily access the most important data of your device in the "My devices" area. Here you can find general information on the device, assign devices to a contact person and automatically see documents such as the latest version of the operating instructions and certificates. We show you the order data for the sales process of the device, the next service due date and we tell you if a new software version is available for your device.
My orders
Under "Orders", you receive a complete list of all orders, e.g. service orders, new device orders, repair orders, etc. For each order, you can view details and check the current status of an ongoing order.
You have the option of booking a service for each device under "My devices", which is then listed under "My orders". Likewise, you get an overview of your current credit for using the digital measurement data management under "My Credit Balance". With the help of the listings, you can evaluate how many measurements have been sent from which device.
Q&A to Esders Connect online portal
The Esders Connect app is a central link between the measuring devices and the Esders Connect online portal. Using the Esders Connect app, you can, for example, upload measurements from the device to the Esders Connect online portal and send reports to e-mail addresses, even if your measuring device does not have an integrated LTE module. The Esders Connect app also enables you to transfer changes made to devices in the Esders Connect online portal. This applies, for example, to configurations of additional data (MDE), additional menu items, device settings, languages or software updates. The Esders Connect app enables transfers between the measuring device and portal in both directions.
In addition, the Esders Connect app can be a link between your own app and our measuring device. For this purpose, we provide you with special connections/interfaces, which are explained in more detail in the area of special applications.
The main functions of the app
Send completed measurements as a PDF report and upload to Esders Connect portal.
Connect to the measuring device via Bluetooth and read the measurement data memory. Choose up to three e-mail addresses to which a complete PDF report of the measurement will be sent. Before that, you have the option of entering additional data via the Esders Connect app or correcting it if necessary.
Enter additional data (MDE) via QR code/barcode.
In addition to the option of editing or subsequently entering additional data (MDE) and then sending the updated measurement, the Esders Connect app has been equipped with a QR code/barcode scanner. The data stored in a code can be transferred directly to an MDE field via the scanner. It is also possible to fill in several MDE entries at the same time using a QR code (in corresponding formatting). Detailed information on this can be found in the Q&A.
Updates and upgrades
In order to simplify the device update and to ensure that your devices work with the latest firmware, you can update the devices via the Esders Connect app. Every time a connection is established between the Esders Connect app and an Esders measuring device, it is checked whether a new firmware version is available for the measuring device. This also applies to an update of the configuration of the additional data (MDE) or to booked options (e.g. new menu items, new languages, etc.). These updates can now be easily installed via the app!
Documents
If you are registered in Esders Connect, you can log into the app and have access to various documents of your measuring devices. These include, for example, operating instructions, brochures, technical data sheets and much more.
Esders Connect App for all operating systems
The Esders Connect App is available for iOS as well as for Android. Particularly for Windows-phones or usage of a PC we developed a new software, which is called Esders Connect PC. For working with a PC we recommend to use the Esders LINK in order to avoid issues when connecting via Bluetooth.
Q&A on Esders Connect App
So far, you have learned about the essential components of Esders Connect. You know how the Esders Connect online portal works and that the Esders Connect app has an interface function between the measuring device and the online portal. Our Esders Connect solution enables you to send your measurement data digitally and manage it centrally. If you would like to take a closer look and want a detailed view, we have compiled the networking and interfaces of our system in a graphic. The next section explains which special functions and interfaces are provided for you.
Special applications for data transmission
If you have special application requirements and if, for example, sending the PDF report by e-mail or the Esders Connect app is not exactly what you require, we offer further special applications in the field of data transmission. We have an individual solution for every component of our system, whether it's a measuring device, Esders Connect app or the online portal. Our IT department has developed the following solutions for your IT:
Esders LTE Rest
Individual data transfer from the measuring device directly to your ERP system
Esders JSON Protocol
Individual data transfer from the measuring device via Bluetooth
App2App
Individual communication of your app with the Esders Connect app
Ask our technicians now and request a consultation.
We'll get back to you promptly if you give us your contact details.