Shopping cart
Device technology
Device options
Software
External sensors
Test trailer
Pumps & Compressors
Gas flares
Gas venting pipes
Disinfection
Connection accessories
Test accessories
Charging technology
Transport & Storage
Accessories
Operating instructions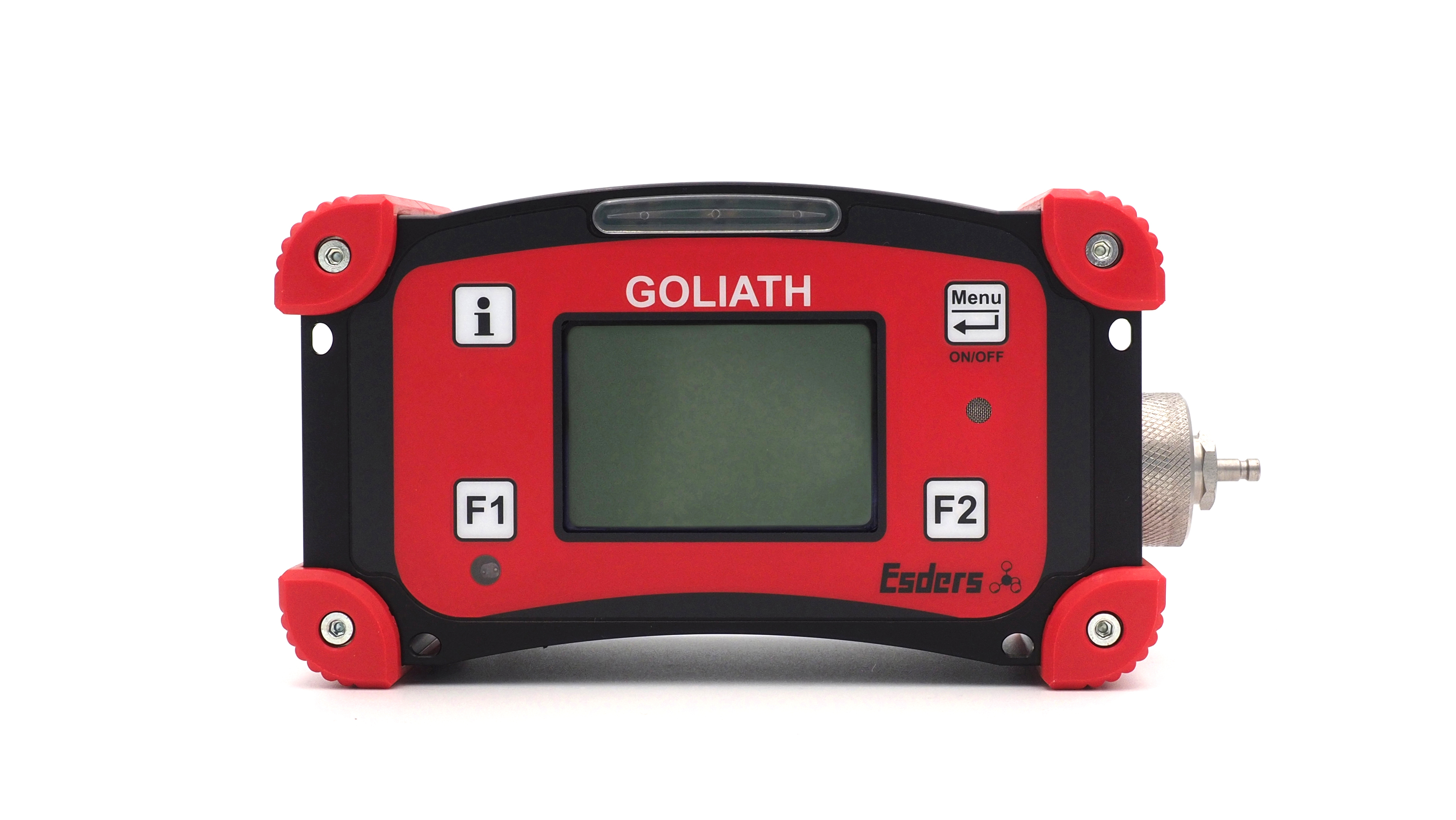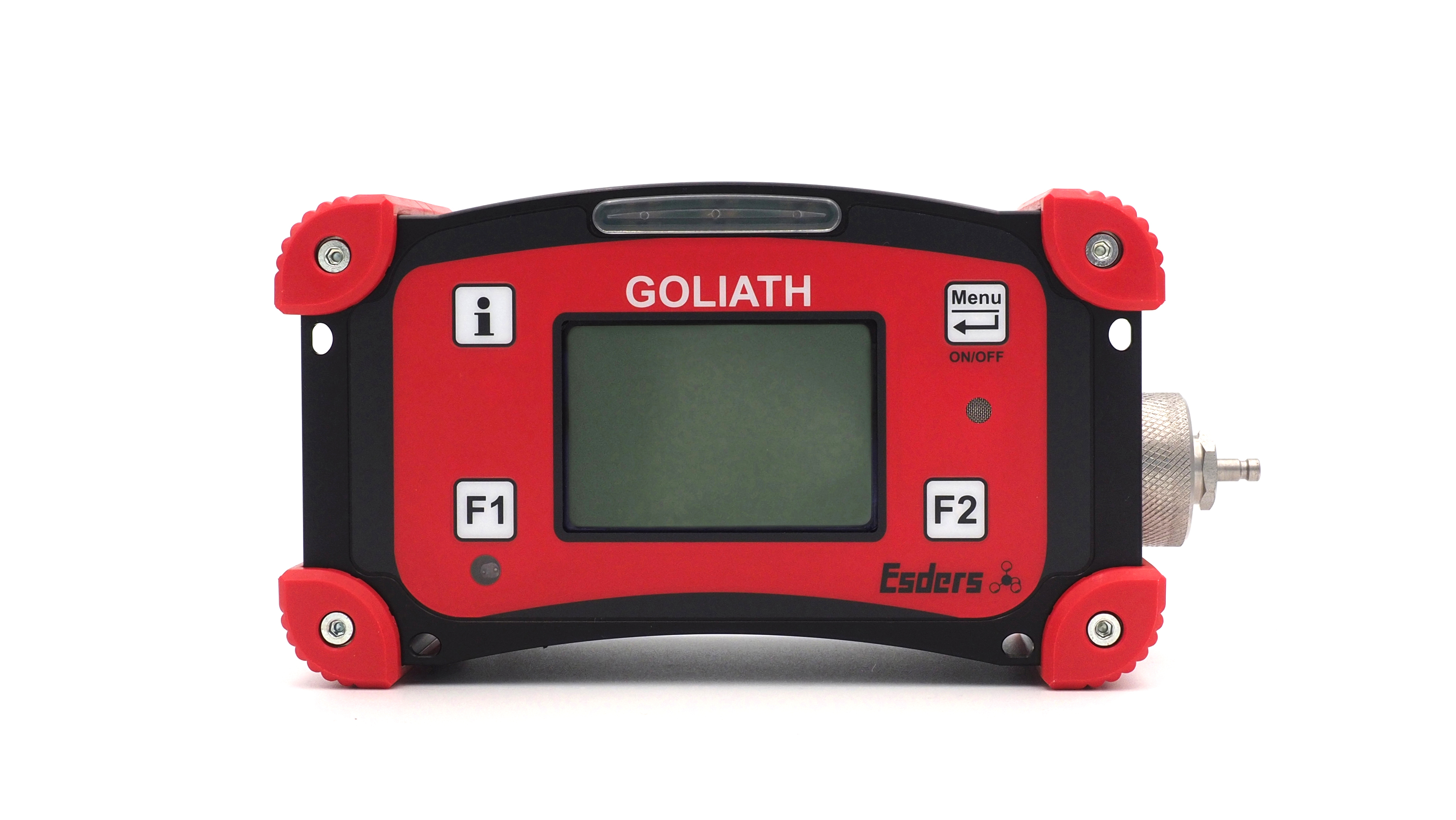 GOLIATH - 201050
GOLIATH Allround without Ethane analysis
methane/propane and toxic gases Detect - Warn - Measure Rugged, explosion proofed measurement instrument with internal membranpump and reachargeable NiMH- battery. operating time: depending on application and backlight Application in accordance with DVGW G 465-4: - Enclosed space testing - Above ground inspection - Confined space entry - Building inspection - Bar hole testing - Purging gas purity Measurement ranges: - methane ppm, LEL, Vol.% - carbon dioxide 0 - 5 Vol.% / 0 - 100 Vol.% CO2 - propane ppm, LEL, Vol.% (optional) - oxygen 0 - 25 Vol.% O2 (optional) - carbon monoxide 0 - 500 ppm CO (optional) - hydrogen sulphide 0 - 100 ppm H2S (optional) - pressure measurement 0 - 2.000 hPa (optional) - flow speed measurement (optional) Dimensions: 200 x 100 x 87 mm Weight: approx. 1250 g Explosion proofed instrument: Sign: II 2G Ex ib d IIB T3/T4 Gb BVS 09 ATEX E 079 X Temperature range: -10°C <= Ta <= +40°C
Description
The GOLIATH is perfectly suited as an LDAR (leak detection and repair) device for the emergency services. In addition to the frequent case of a reported gas odour, a large proportion of cases are based on the statement "no gas present". In this case, the fitter must determine the cause and IS reliant on measuring force in the gas installation. The GOLIATH, with a measuring range of 0 to 2,000 hPa (optional pressure sensor), also perfectly meets this task. In many gas supply companies, it has proven useful to detect carbon monoxide concentrations in addition to monitoring the room air for combustible gases. For this reason, the CO concentration is also displayed and an alarm is triggered from 10 ppm in the case of a "house test". In this way, the operator IS alerted to possible problems with the flue gas ducting.
Features
Time-tested Esders operation concept.
Very quick initial break-in phase after being switching on or changing application.
Extremely short reaction times when measuring CH4 and CO2 in all concentrations.
Oxygen and up to 3 toxic gas sensors are available as an option.
Ethane analysis with automatic measurement result assessment can be integrated.
Optional pressure measuring up to 2,000 hPa.
Goliath Option v


Speed measurement
For our gas stand pipe we now offer the possibility to measure the speed when gassing or emptying gas pipelines.
The gas test stand pipe is a proven tool in the field of gas supply, which is used for pressure testing, filling and commissioning of gas pipes. For the gassing of the pipe, the DVGW recommends filling the pipes at a speed of between 3 and 7 m/s in the pipe. We now offer a practical solution for this task. A measuring pipe is used, which is equipped with an internal pitot tube and is connected to the GOLIATH gas measuring device for evaluation.
The GOLIATH Option v is equipped with a differential pressure sensor to determine the static and dynamic pressure in the pitot tube. The user enters the diameter of the main pipe and its length in the menu. The display of the GOLIATH then shows the speed in the main pipe and the estimated time required for gassing and the elapsed filling time, as well as the gas concentration.
EVERYTHING FROM ONE SOURCE
Technical data
Display
LCD graphic display 128 x 64 pixels, illuminable
Power supply
NiMH rechargeable battery pack
Operating temperature
-10 °C to +40 °C
Operating time
Varies depending on application and illumination
Charging
Charging cradle supplied by 12 Volt DC or 230 Volt AC,
Charging time approx. 3 hours
USB port (specified for 500 mA),
Charging time approx. 8 hours
Data Store
Flash memory 4 Mbyte for more than 1 Mio. measurement values
Protection type
IP54
Dimensions
200 x 100 x 87 mm
Weight
approx. 1.250 g
Explosion protection ATEX
BVS 09 ATEX E 079 X – Ex II 2G Ex ib d IIB T3/T4 Gb