Shopping cart
Device technology
Device options
Software
External sensors
Test trailer
Pumps & Compressors
Gas flares
Gas venting pipes
Disinfection
Connection accessories
Test accessories
Charging technology
Transport & Storage
Accessories
Operating instructions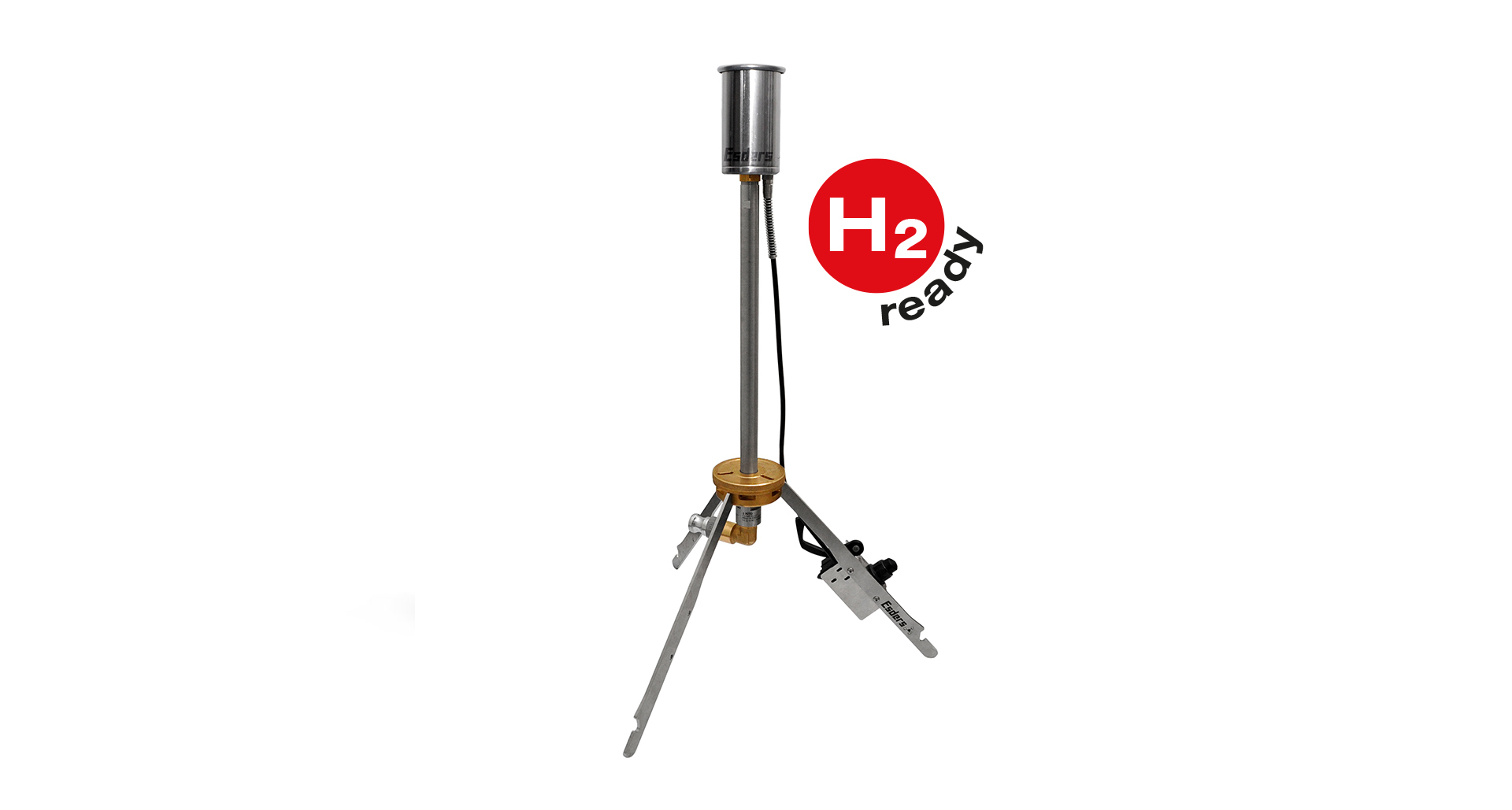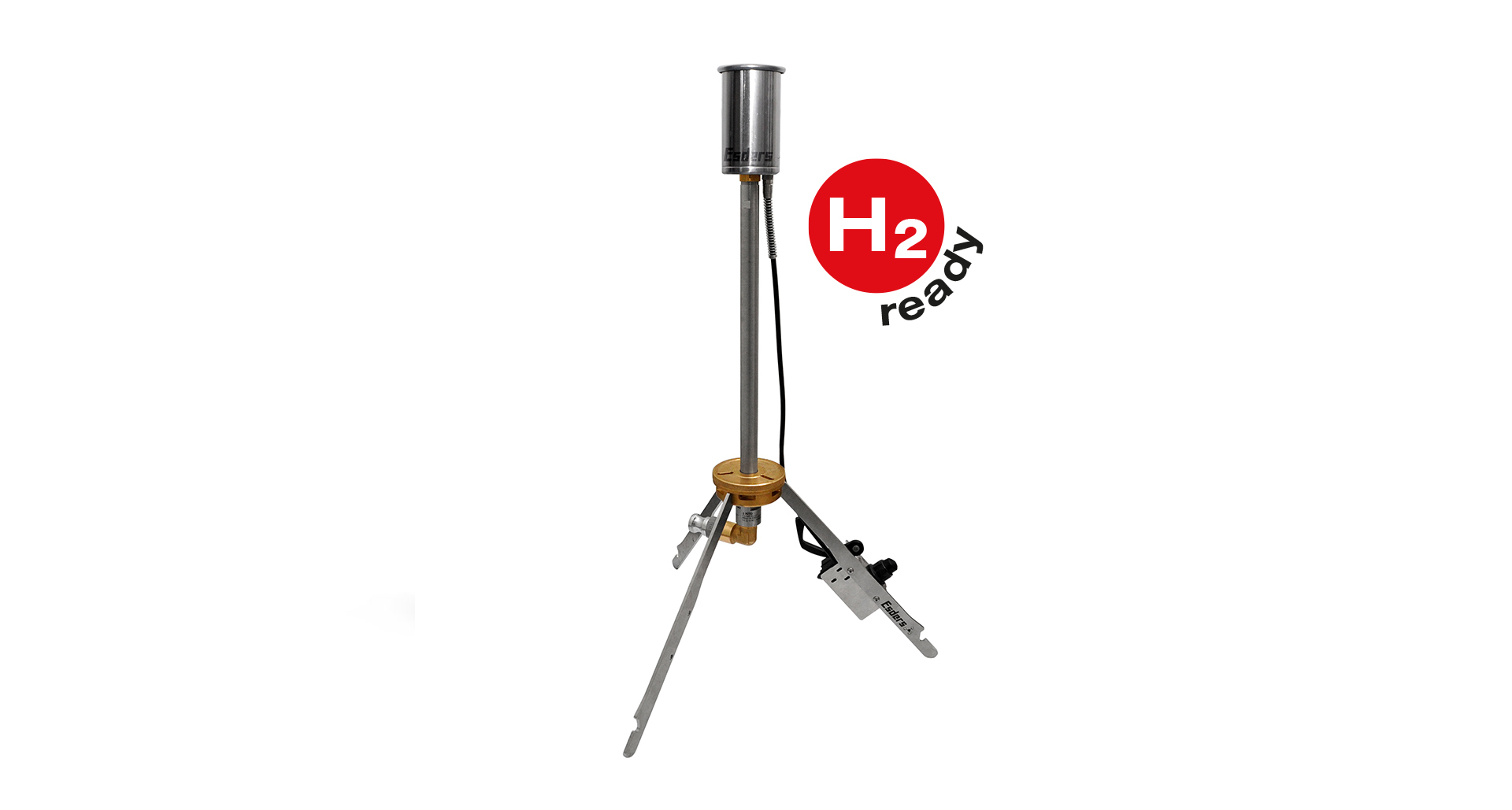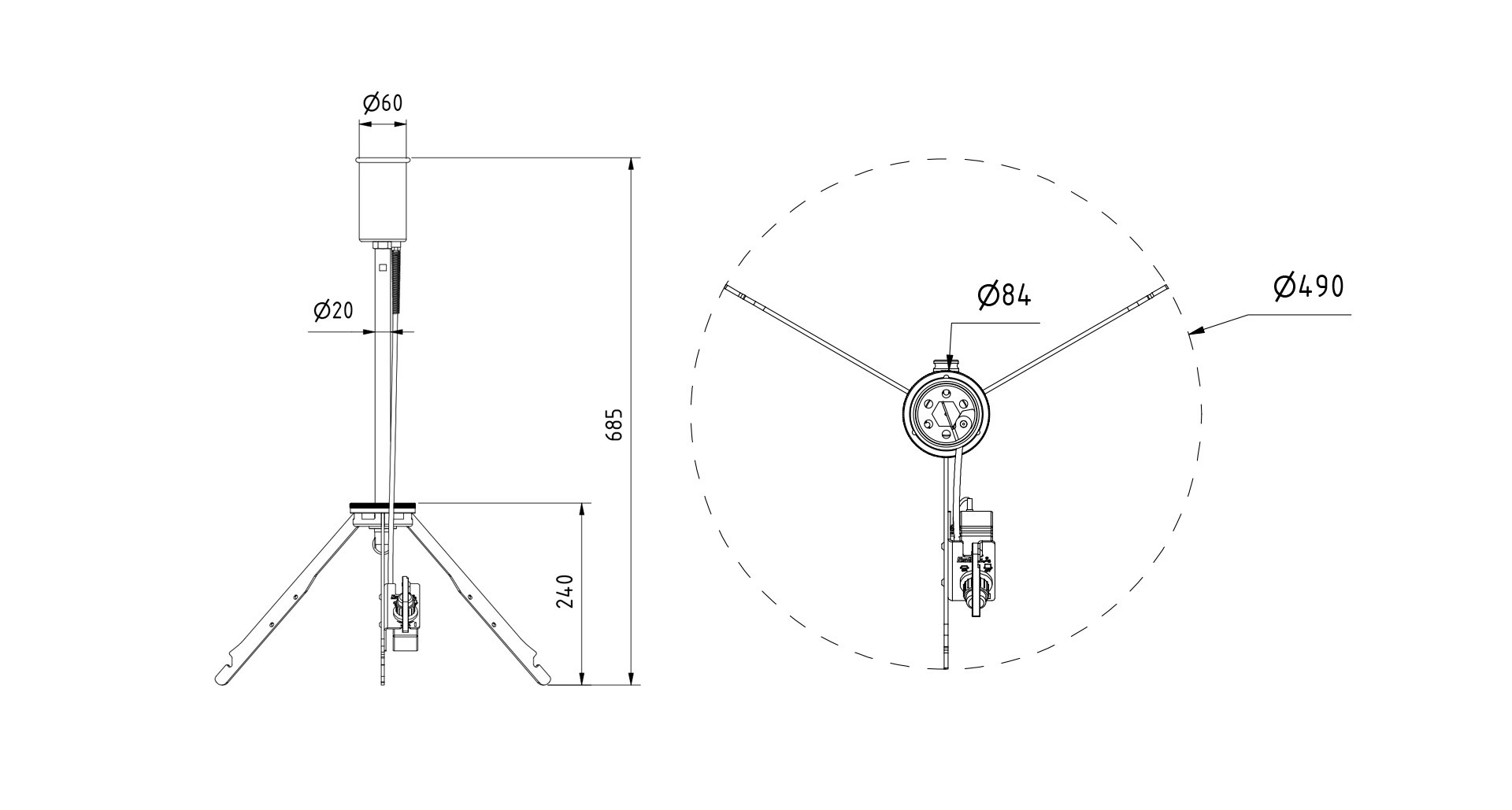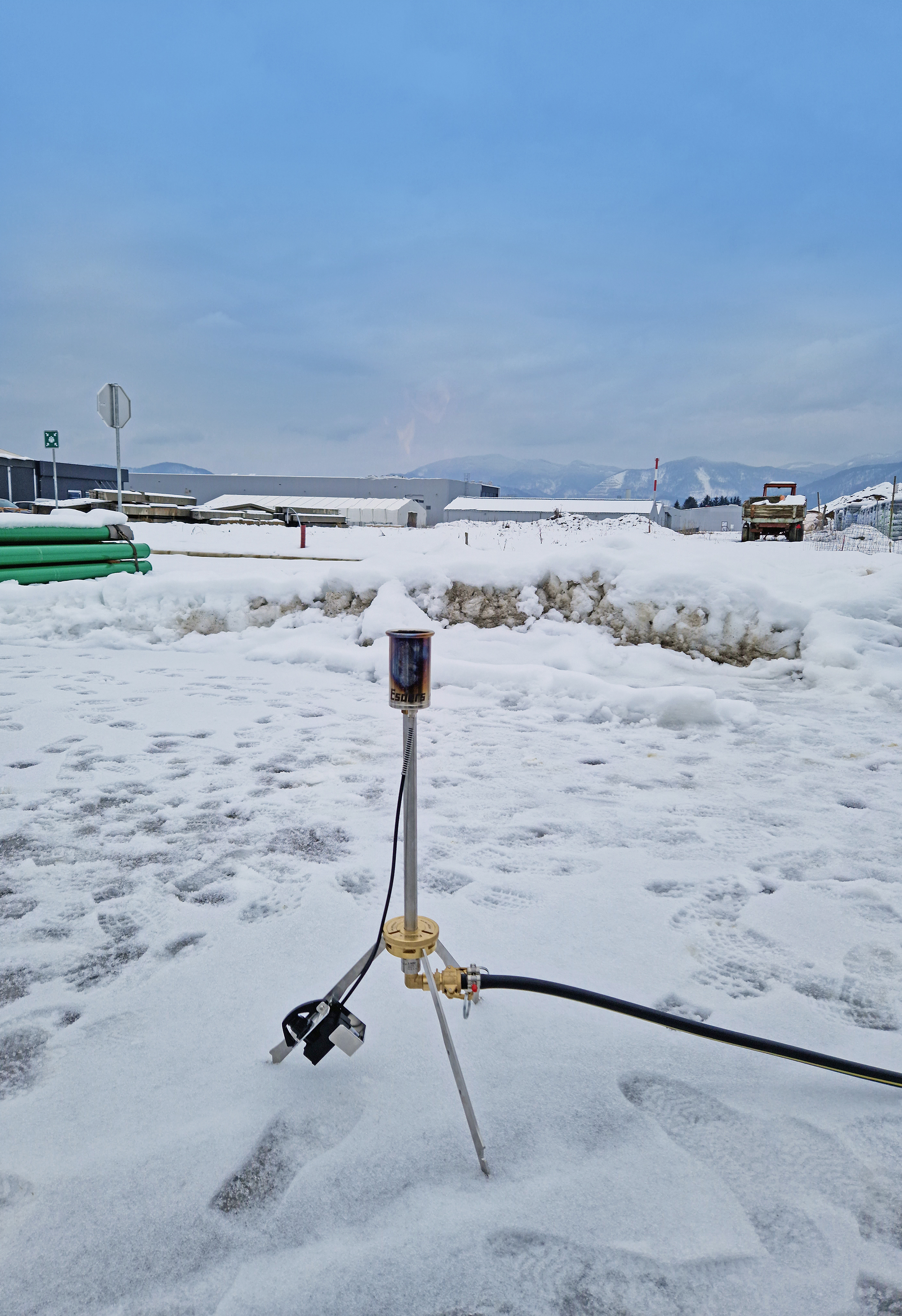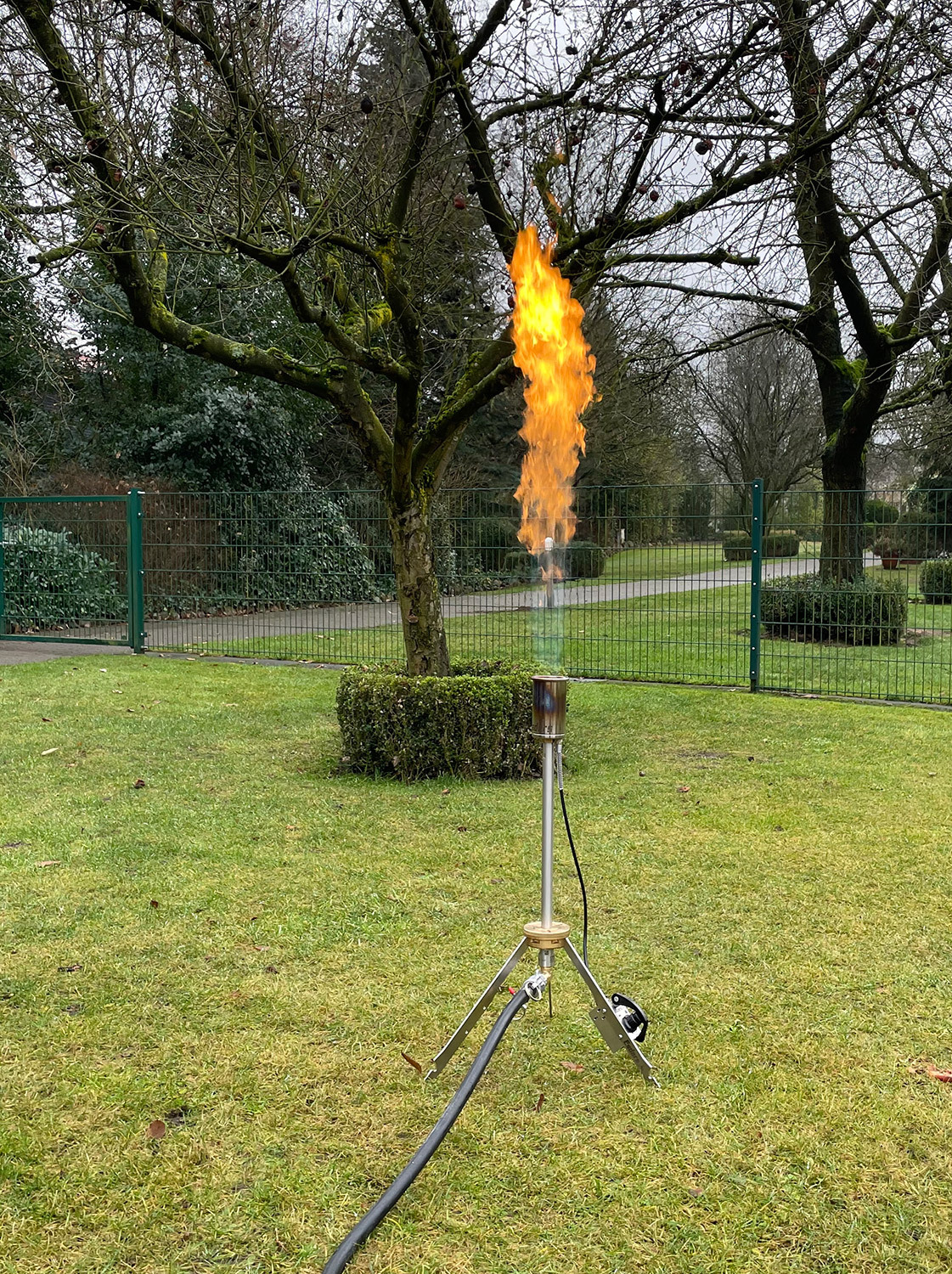 Mobile Gas Flare S - 402280
Small-sized and quickly ready-for-use gas flare for safe flaring applications of natural gas, hydrogen or other combustible gases. For reduction of operational methane emissions during commissioning and decommissioning of gas service lines in the house connection area (according German DVGW worksheet G 404). Suitbale for emptying of gas tank facilities. - integrated piezo-ignition, up to 8 h with permanent ignition (1x AA battery) - ready for use in a few minutes, optimized for service lines - integrated flame arrestor for gases of explosion group: IIA, IIA1, IIB, IIC - H2-ready - max. operational pressure: 1 bar - max. volume flow approx. 15 Nm3/h methane at 1 bar - combustion efficiency approx. 99,9 % - connnection accessory available
Description
We have developed the Mobile Gas Flare S especially for house connections.

It is a cost-effective and compact solution which is used for pure gas flaring. The device is ready for use in a few minutes and is thus a suitable measure to avoid large blow-out volumes even in the area of house connections. Especially in the case of house connections, the volumes to be saved from a single connection pipe are small, but as soon as these small quantities of such a measure are added up over many applications, e.g. in an annual balance, a considerable emission avoidance potential is created. With the help of the Mobile Gas Flare S, a significant contribution to the reduction of methane emissions in the gas distribution network can be achieved during the commissioning of house connection pipes alone, through the use of low investment costs and low labour input per measure. Gas flares are also recommended as an effective tool for reducing operational methane emissions in the currently published DVGW Code of Practice G 404.
An integrated (continuous) ignition guarantees stable combustion and also ensures sufficient occupational safety, as no personnel have to go near the escaping gas to ignite the flame. The working range of the gas flare is limited to a maximum of 1 bar, as factors such as flame pattern, sound level and stable combustion would no longer be optimal at higher pressures. As soon as an ignitable mixture is present at the gas flare (with methane usually from concentrations of 60 % upwards), it is reliably ignited if the maximum inlet pressure of the gas flare is maintained. Combustion by the Mobile Gas Flare S is low in pollutants and environmentally friendly.

Flaring not only contributes to environmental protection by reduction of greenhouse gases, but also to occupational safety. With our Mobile Gas Flare S, we make a further contribution to climate-neutral distribution grid operation and provide technical solutions for climate protection and occupational safety.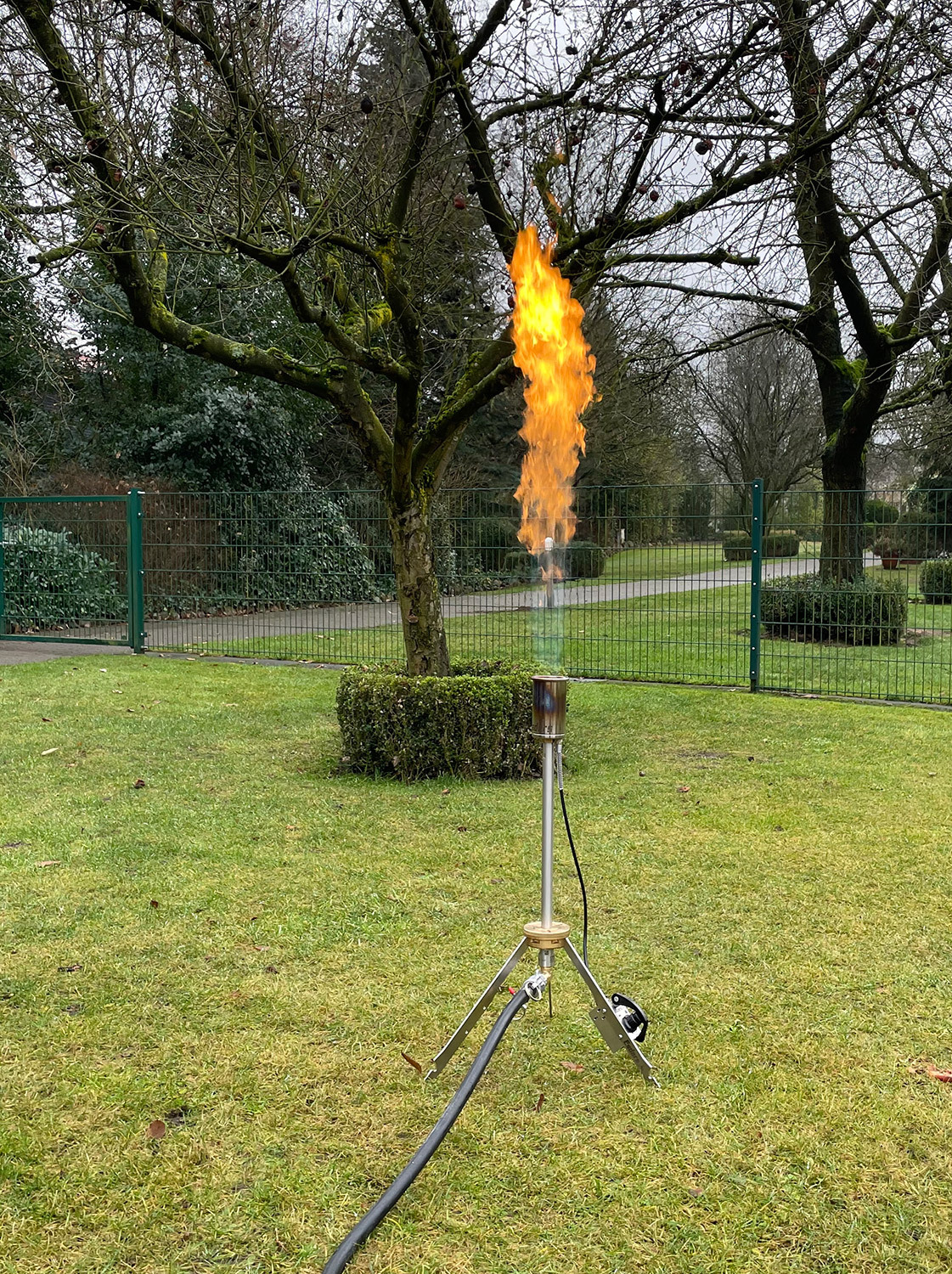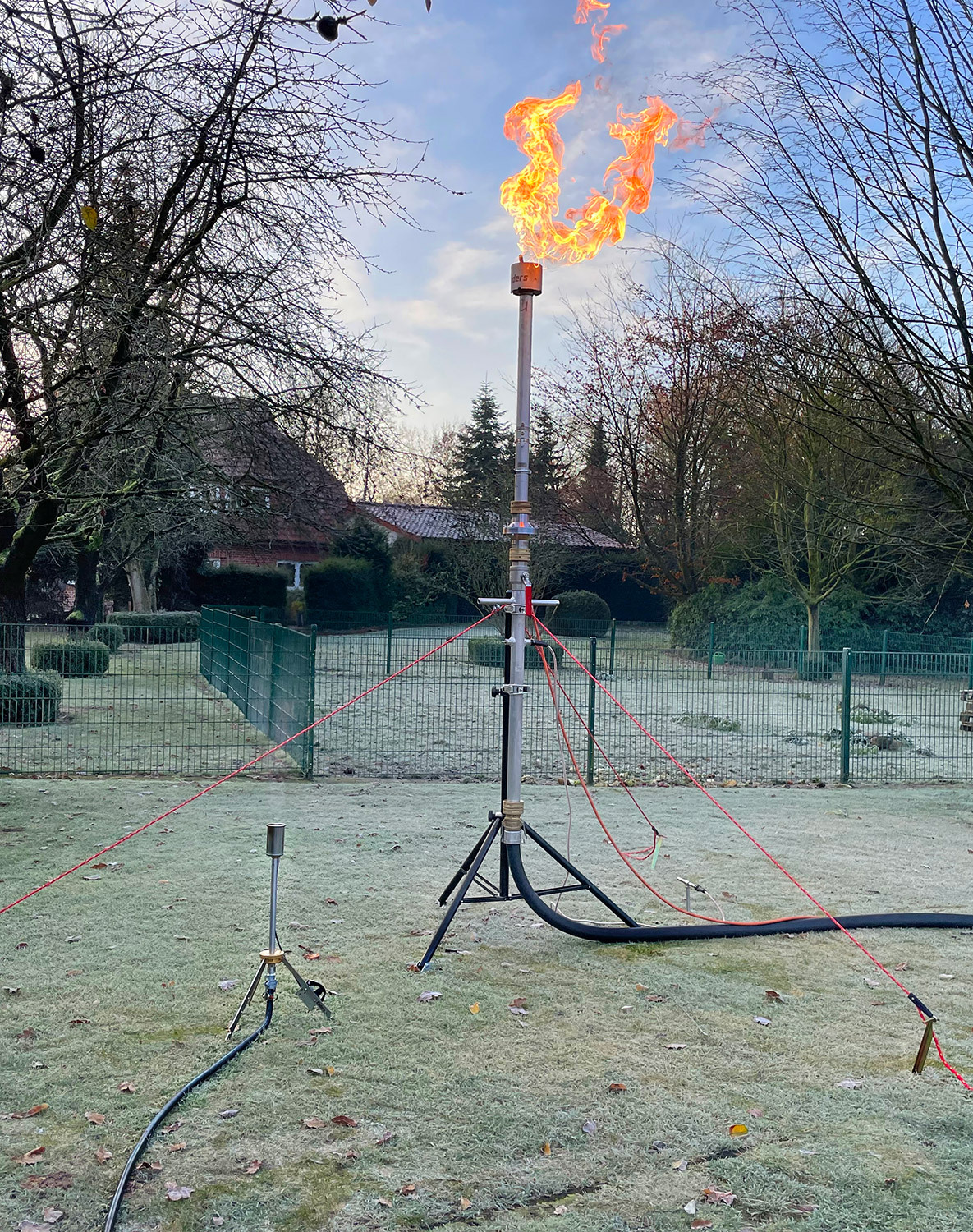 Features
Compact and quickly ready for use
Suitable for service lines. For supply lines and larger volumes we have developed the Mobile Gas Flare M.
Clean, low-pollution combustion
H2-ready
Integrated flame arrestor for safe operation
Piezo igniter for automatic and safe flame ignition
Can be combined with other measures to reduce methane emissions, e.g. flaring of residual gas volumes after usage of mobile compressors
Pressure limitation to 1 bar: defined, safe working range
High-quality workmanship, mainly stainless steel and brass
Complete with connection accessories available in a case, consisting of: Hoses, connection unit with ball valve, pressure gauge and connections for concentration and pressure measurement as well as various adapters.
Connection example
For safe operation of the Mobile Gas Flare S(1) it is necessary to use the appropriate accessories.
The Mobile Gas Flare S is connected to the connection strip(3) via a gas-resistant hose (material NBR)(2) with a length of 2 metres using quick connectors (Camlock). On the connection strip, which functions as a control panel, is a pressure reducer on the input side, which ensures that a maximum pressure of 1 bar is applied to the Mobile Gas Flare. On the outlet side, there is a ball valve with which the gas flow can be initiated from a safe distance to the gas flare. If required, two additional connections can be used to record and measure variables such as pressure with our smart memo or gas concentration with our OLLI. An integrated control manometer serves as a safety feature.
A gas-resistant hose(4) with a length of 5 metres can be used to connect the connection strip to the gas line or the house connection. The hoses are each equipped with a Camlock male part and a Camlock female part, so that they can be extended with another hose if necessary. Suitable adapters for connecting the hose to the gas pipe or the house connection are also available, usually the HUGO test head(5) is  a suitable choice. All required accessories can be found in the accessories case(6). If you need further adapters, please contact your Esders representative.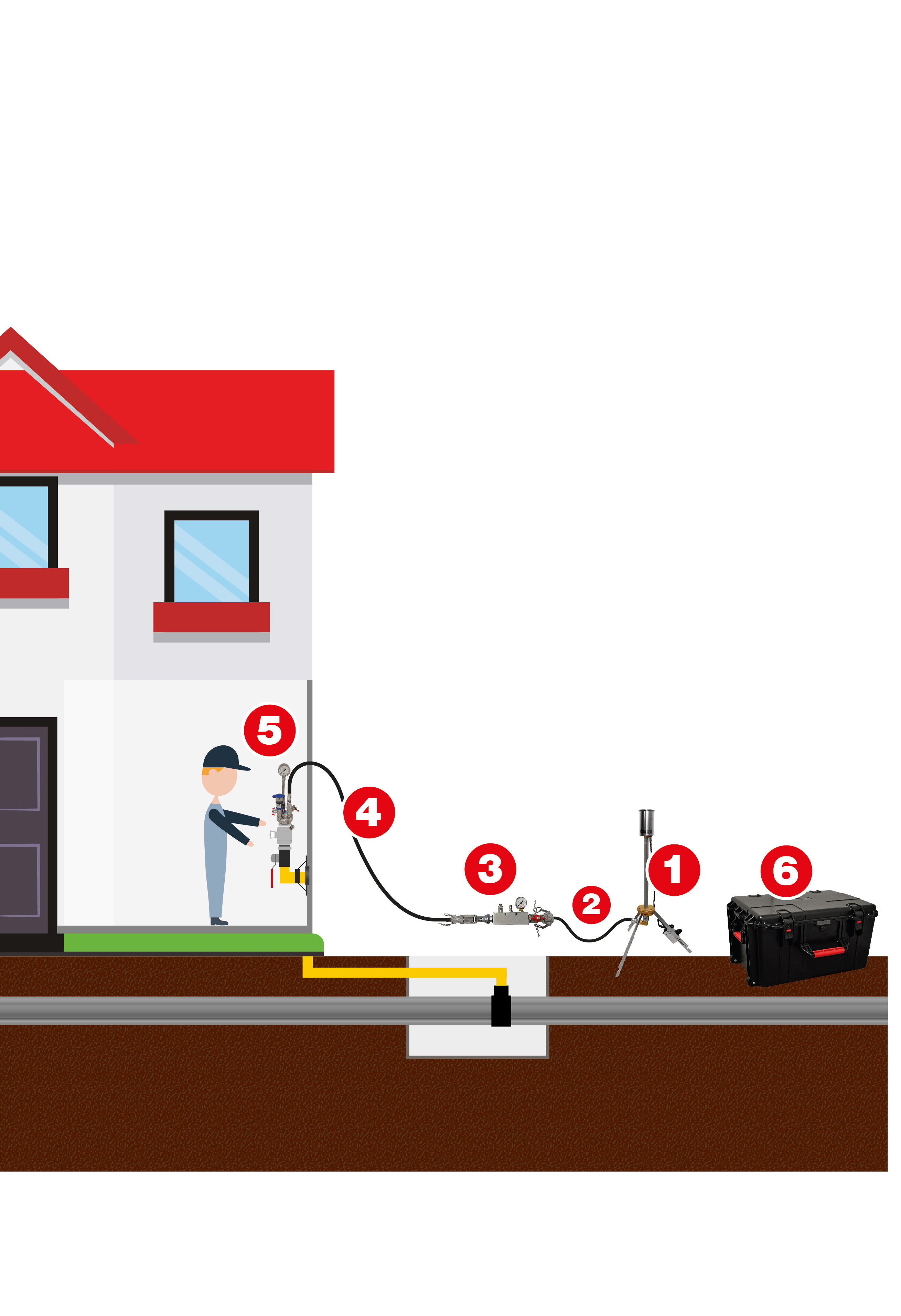 Flaring times during decommissioning
In order to be able to better estimate the time required for decommissioning, we have given estimated flaring times for the Mobile Gas Flare S in the table below. The values in the table indicate the estimated duration in minutes that is required at least to flare gas in a pipe with the given pipe volume (given in cubic metres) at a certain starting pressure (given in bar) up to a final pressure of 50 mbar. If a further pressure reduction is required, the duration is extended accordingly.
Example: Start pressure 1 bar, total pipe volume 2 m
3
Final pressure 50 mbar
Expected duration: min. 30 minutes
As the net overpressure increases, the volume flow also increases proportionally.


Technical Data
| | |
| --- | --- |
| Max. volume flow | approx. 15 Nm3/h at 1 bar |
| Max. pressure flare inlet | 1 bar |
| Max. pressure accessories | 10 bar |
| Flare ignition-type | piezo spark igniter with manual or permanent ignition |
| Power supply piezo igniter | battery-powered, 1x battery Mignon AA |
| Max. ignition duration | max. 8 h permanent ignition per AA-battery |
| Flaring approved for gases of explosion group | natural gas, propane, hydrogen |
| Flame arrestor approved for explosion groups | IIA, IIA1, IIB, IIC |
| Dimensions | height 685 mm, diameter set-up area 490 mm |
| Weight | 2.850 g |
Downloads
407081 System Accessories Mobile Gas Flare S
Brochure Mobile Gas Flare S EN
Equipment
Accessories Connection adapter Spare parts for instrument Operating instructions