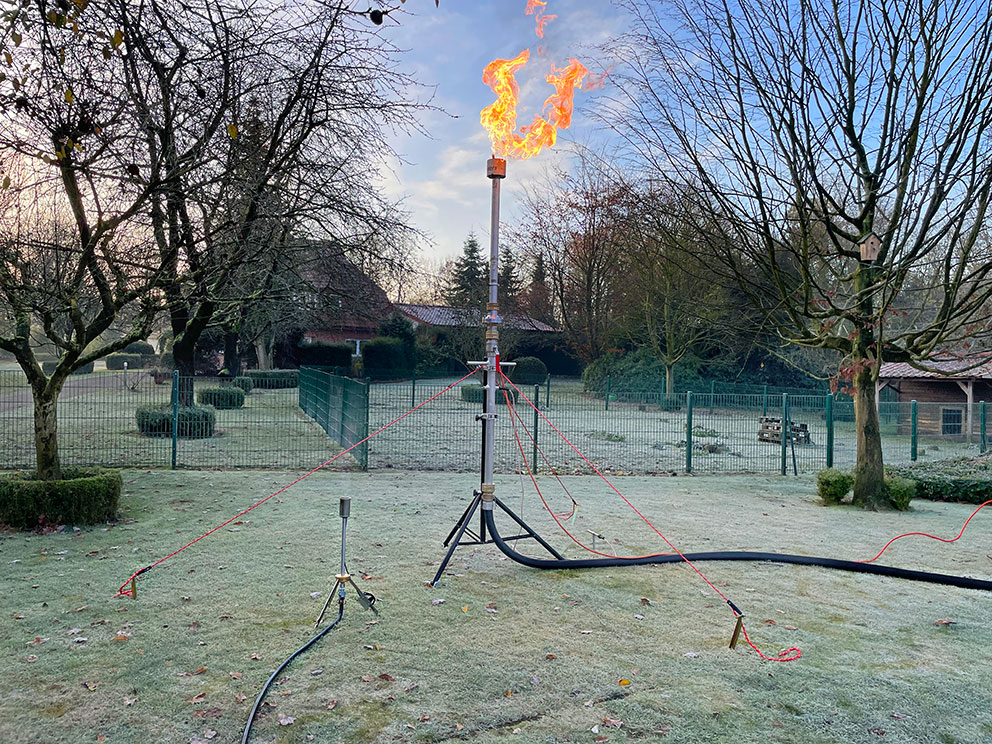 Effectively reduce methane emissions in the gas distribution network: The new Mobile Gas Flare S makes it possible in the low and medium pressure range. While flaring has so far been used mainly in the high-pressure range, Esders GmbH has created an economical solution with its compact system, for example for service line connections. The company from Emsland combines environmental protection and occupational safety with the new development.
In the low- and medium-pressure range of gas distribution networks, an effective solution for reducing methane emissions has been lacking up to now. In the absence of this, the gas was simply blown out and released into the atmosphere when new service line connections to houses were commissioned.
A procedure that is questionable both with regard to the environment and for reasons of occupational health and safety, as Martin Esders, Managing Director of Esders GmbH, emphasises: "With our new Mobile Gas Flare S system, we are putting an end to the previous way of dealing with methane emissions. Public supply companies are provided with an economical and easy-to-handle solution."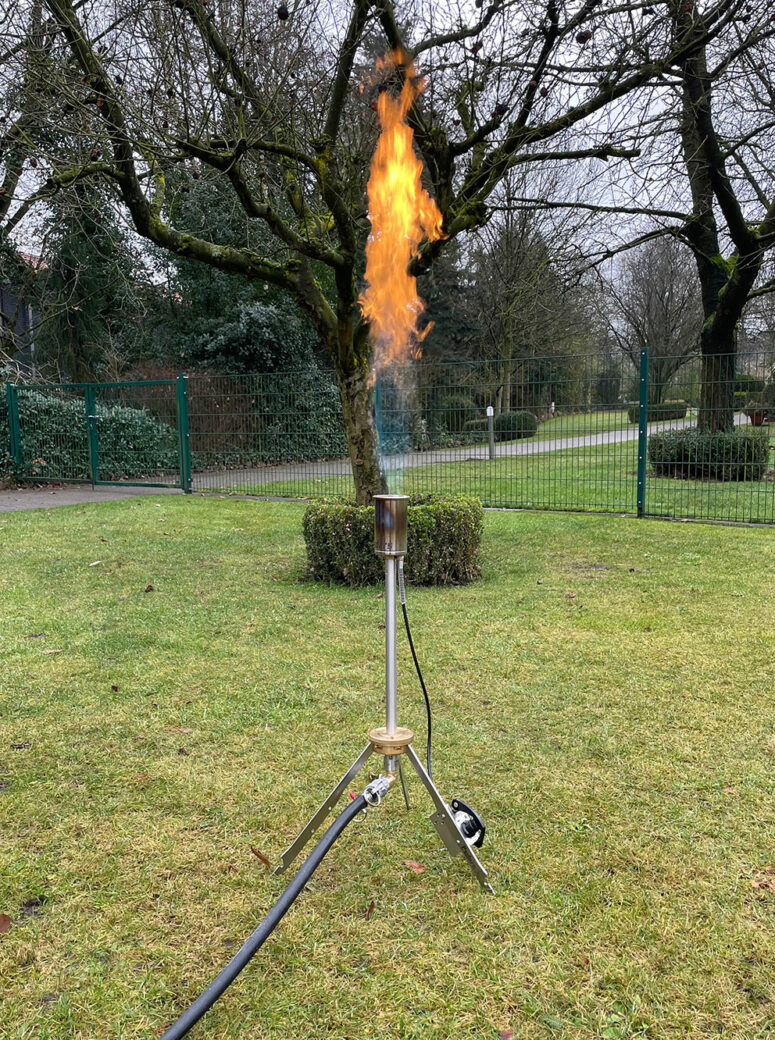 Important factors such as flame pattern always optimal
The new development from the Emsland-based company, which is mainly made of stainless steel and brass, has a fixed operating range of a few mbar above atmospheric pressure up to a maximum of 1 bar. Due to this limitation, the Esders system maintains the factors that are important in flaring, such as flame pattern, sound level and stable combustion, at an optimum level at all times. In this pressure range, the gas flare almost completely eliminates methane through optimised combustion and thus operates in a low-emission and environmentally friendly manner.
The volume flow depends on the operating pressure and is in the range of approx. 8 Nm3/h at 1 bar inlet pressure. However, the inlet pressure may be up to 10 bar and is then reduced by the accessories supplied, which also include hoses, a connection strip with ball valve, a pressure gauge, connections for concentration and pressure measurement as well as various adapters. An integrated (continuous) ignition not only ensures stable combustion, it also provides a high degree of occupational safety. This is because no one has to go near the escaping gas to ignite the flame.
Even designed for hydrogen flaring
In addition to the low and medium pressure range, the Mobile Gas Flare S can also be used for high pressure range. It can be combined with other measures to reduce blow-off quantities, for example following the use of a mobile compressor. Furthermore, the new development is also designed for flaring hydrogen.
With their solution, Esders GmbH provides an effective system for implementing the EU methane strategy. This strategy aims to reduce methane emissions. This is because despite its smaller share in the atmosphere compared to carbon dioxide (CO2), methane is considered to be significantly more harmful to the climate. To prevent it from entering the atmosphere, flaring is a suitable means. "Esders not only emphasises beneficial solutions, but also supports the industry in terms of environmental protection and a more sustainable set-up," says Esders.
Contact for Journalists & Editors:
Lukas Schenk
Sputnik GmbH
Presse- und Öffentlichkeitsarbeit
Hafenweg 9
48155 Münster
Tel.: +49 251 / 62 55 61-131
Fax: +49 251 / 62 55 61-19
schenk@sputnik-agentur.de
www.sputnik-agentur.de
Christian Wopen
Sputnik GmbH
Presse- und Öffentlichkeitsarbeit
Hafenweg 9
48155 Münster
Tel.: +49 251 / 62 55 61-21
Fax: +49 251 / 62 55 61-19
wopen@sputnik-agentur.de
www.sputnik-agentur.de