Shopping cart
Device technology
Device options
Software
External sensors
Test trailer
Pumps & Compressors
Gas flares
Gas venting pipes
Disinfection
Connection accessories
Test accessories
Charging technology
Transport & Storage
Accessories
Operating instructions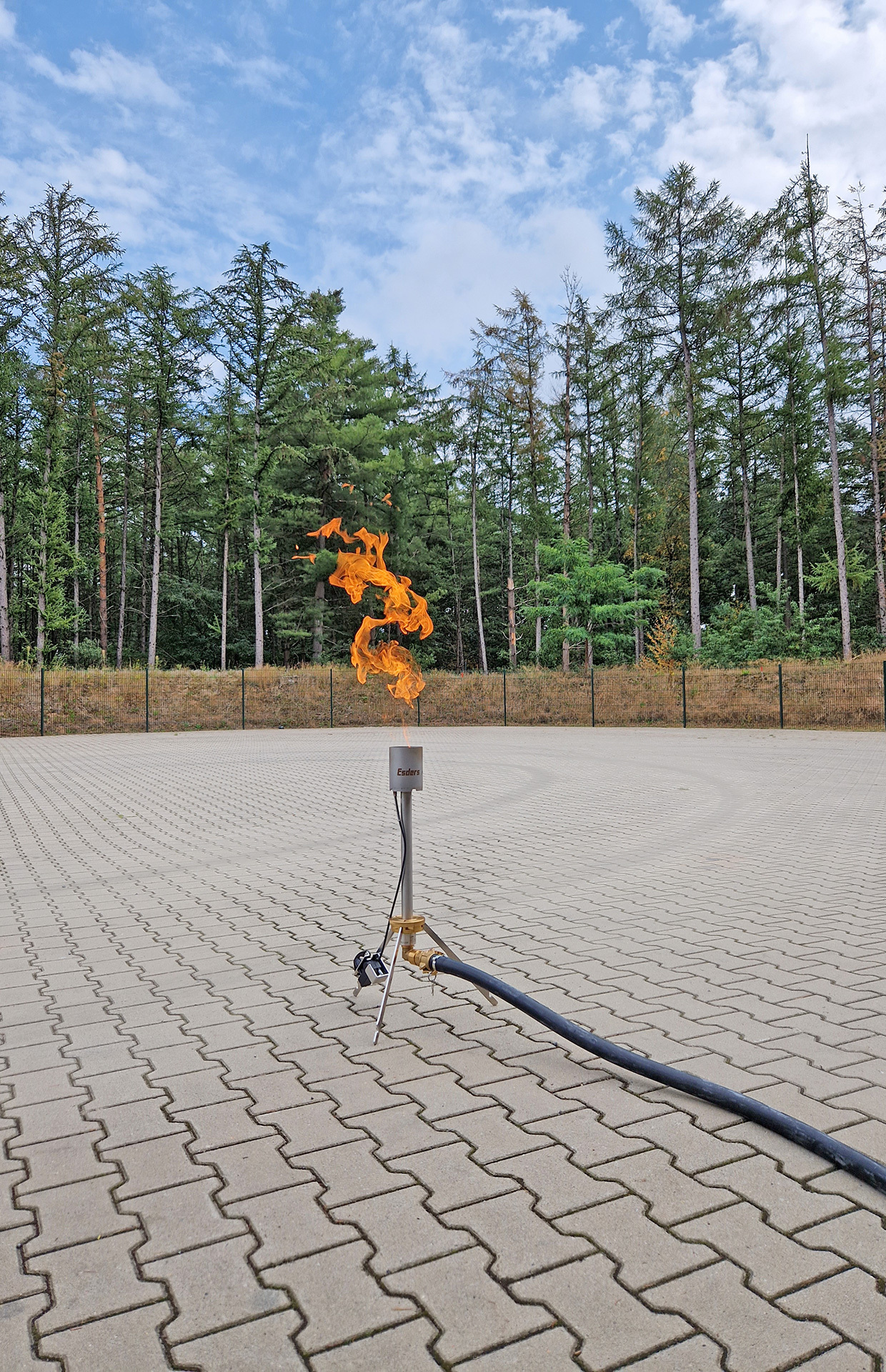 Mobile Gas Flare M - 402380
Mobile and compact gas flare for safe and environmentally friendly flaring of natural gas, hydrogen or other combustible gases. To avoid operation-related methane emissions during commissioning and decommissioning of pipelines (according to German DVGW worksheet G 404). Suitable for supply/distribution lines, limited suitability for house connections. Suitable for emptying of gas tank/storage facilities. - integrated piezo igniter, continuous ignition up to 8 h (1x AA battery). - quickly ready for use, short set-up time, high flow rate and low-emission combustion - integrated flame arrester for gases of the explosion groups: IIA, IIA1, IIB, IIC - H2-ready - max. operating pressure 1 bar - max. flow rate approx. 150 Nm3/h methane at 1 bar - combustion efficiency approx. 99,9 % - connection accessories available separately
Description
Safe flaring of large gas volumes with the Mobile Gas Flare M
When commissioning or decommissioning pipelines in the low or medium pressure network, large volumes of natural gas must be discharged in a safe and environmentally friendly manner. Operational methane emissions in the gas distribution network are to be avoided or reduced as far as possible in order to achieve the ambitious national and international climate protection targets. The flaring of natural gas is an effective method of reducing methane emissions that are harmful to the climate. The currently published DVGW Code of Practice G 404 also recommends gas flares as an effective tool for reducing operational methane emissions. Our mobile gas flares meet all the requirements of the code of practice.
The Mobile Gas Flare M is a cost-efficient and compact flaring device that has been specially developed for use in pipeline work on gas pipelines in the low and medium pressure networks. The Mobile Gas Flare M is easy to transport, extremely quick to use and ensures complete and safe combustion of the gas. The flow rates are optimized for larger pipeline volumes so that even large quantities of gas can be flared in an optimal amount of time.
An integrated (continuous) ignition ensures stable combustion and also ensures sufficient occupational safety, as no personnel have to go near the escaping gas to ignite the flame. As soon as the gas is ignited, optimal and low-pollution combustion of the gas begins. A flame arrester is integrated in the gas flare to protect the pipeline.
The working range of the flare is limited to 1 bar to ensure sufficient work protection and continuous combustion. When using the gas flare in the area of high pressure lines, the operating pressure must be reduced by means of suitable fittings. Extensive connection accessories are available for the Mobile Gas Flare M, with which the maximum inlet pressure of 1 bar can also be guaranteed.
Flaring not only contributes to environmental protection, but also to occupational health and safety. With our Mobile Gas Flare M, we make a further contribution to climate-neutral distribution grid operation and provide technical solutions for climate protection and occupational safety.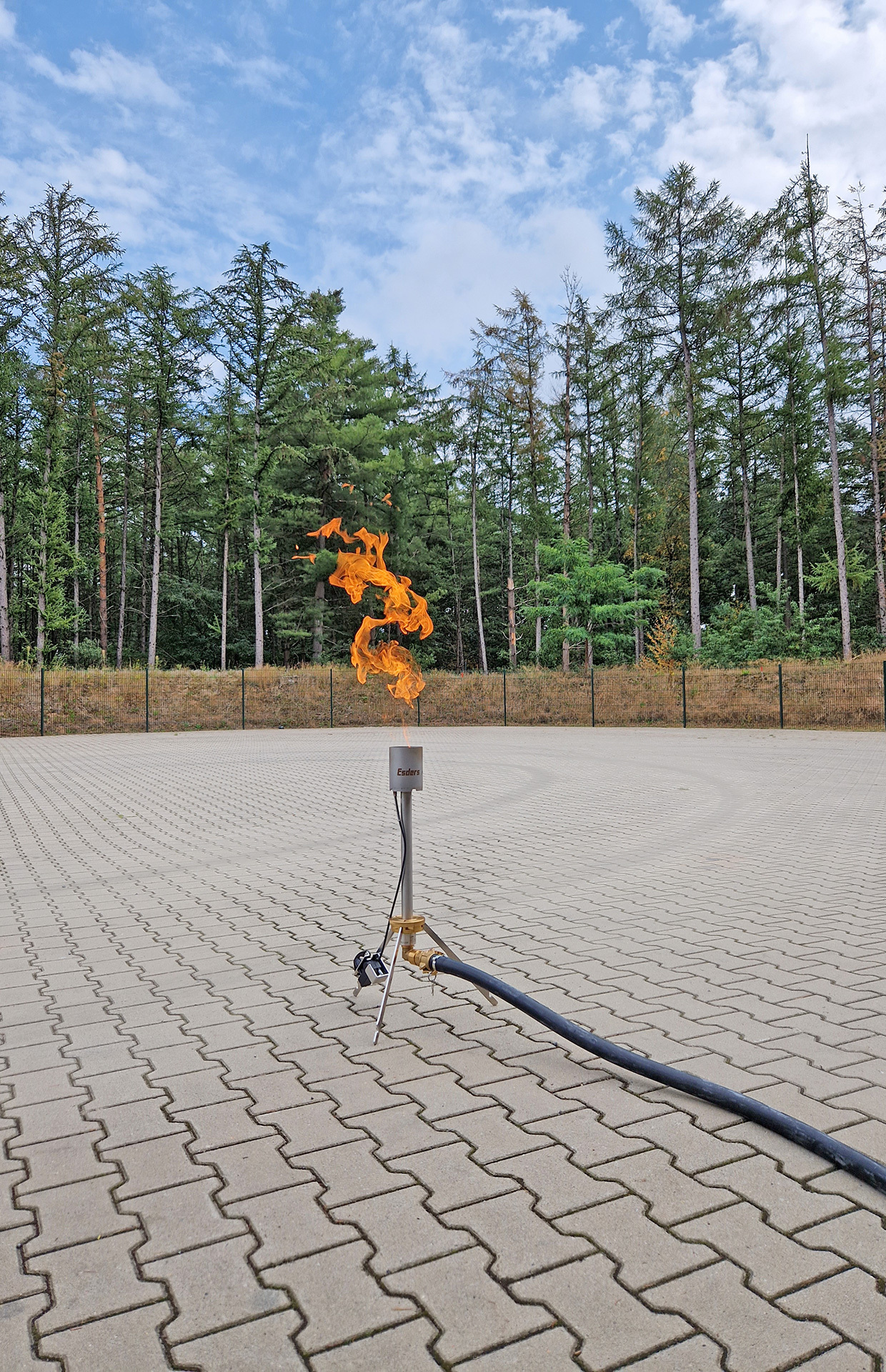 Features 
Flaring device suitable for larger volumes in low and medium pressure

Large gas flow

Limited connectivity to the house

Compact and quickly ready for use

Clean, low-pollution combustion
H2-ready
Integrated flame arrestor for safe operation
Piezo igniter for automatic and safe flame ignition
Pressure limitation to 1 bar: defined, safe working range
High-quality workmanship, mainly stainless steel and brass
Available complete with connection accessories in a case, consisting of: Hose, connection adapter with pressure reducer and ball valve and connectors for concentration and pressure measurement

Connection example
For safe operation of the Mobile Gas Flare M, we recommend using the appropriate accessories.

The Mobile Gas Flare M is connected to the gas line via a gas-resistant hose (material NBR) with a length of 5 meters or optionally with a length of 10 meters via quick couplings (Сamloсk). For connection to the gas line, the use of the connection adapter Mobile Gas Flare M is recommended. The connection adapter can be screwed directly into the gas line via a 1" thread (ET, integrated O-ring seal). A sleeve shut-off valve and a pressure reducer are integrated in the connection adapter in order to control the gas flow safely and in a controlled manner on the one hand and not to exceed the permissible operating pressure of the gas flare (max. inlet pressure 1 bar) on the other hand. Suitable adapters for connecting the connection adapter (1" ET) to the gas line are available in the connection accessories section.

If required, measured variables such as pressure can be recorded and measured with our smart memo or gas concentration with our OLLI via two additional connections.

Alternatively, it is also possible to work with two gas hoses and the connection adapter in the middle, if the connection adapter can not be screwed directly into the pipe in the case of small blow-outs or lack of space. For this purpose, another gas hose (5 meters or 10 meters) and the adapters C25C or C25N are used.



Flaring times during decommissioning
In order to better estimate the time required for decommissioning, we have provided estimated flare times for the Mobile Gas Flare M in the table below. 
The entries in the table indicate the estimated duration in minutes that is required at least to flare gas in a line with the given line volume (given in cubic meters) at a given starting pressure (given in bar) up to a final pressure of 50 mbar. If a further pressure reduction is required, the duration is extended accordingly.
Example: Start pressure 1 bar, total pipe volume 10 m3
Ultimate pressure 50 mbar
Expected duration: min. 6 minutes
The standard volume flow of the Mobile Gas Flare M has been significantly increased in comparison to the Mobile Gas Flare S, so that even large line volumes can be taken out of service in an acceptable period of time. The standard volume flow at comparable mains overpressure is approx. 10 times greater than that of the Mobile Gas Flare S.
Due to the large volume flow of the Mobile Gas Flare M, it is not recommended for use with house connections.
Technical Data
| | |
| --- | --- |
| Max. volume flow | approx. 150 Nm3/h at 1 bar |
| Max. pressure flare inlet | 1 bar |
| Max. pressure accessories | 16 bar |
| Flare ignition type | piezo spark igniter with manual or permanent ignition |
| Power supply piezo igniter | 1x Battery Mignon AA |
| Max. ignition duration | max. 8 h permanent ignition per AA-battery |
| Flaring approved for the following gases | Natural gas, propane, hydrogen |
| Flame arrestor approved for explosion groups | IIA, IIA1, IIB, IIC |
| Dimensions Mobile Gas Flare | Hight 650 mm, diameter set-up area 520 mm |
| Dimensions outdoor case | 570 x 393 x 291 mm |
| Weight | 3.670 g |
| Weight outdoor case | approx. 10 kg |
Downloads
Brochure Mobile Gas Flare M
Equipment
Accessories Spare parts for instrument Operating instructions